How to Achieve Consistent and Predictable New Home Sales Growth
Quick note before we get started…
For the single best strategy to achieve consistent and predictable new home sales growth, grab a free copy of my book, Fahrenheit 8-5-1. It's the road map to selling more homes in up or down markets, building real equity in your company and finally having the freedom to focus on what you do best. CLICK HERE to get your copy for free.
Now, let's jump in…
If you're running a midsize new home building company, you've probably hit this wall at some point: You want to grow, but your sales are just too unpredictable and inconsistent.
When times are good, as they are right now, the sales come rolling in.
But what happens when times get tough, and each sale takes every ounce of grit and determination a salesperson has in order to win it?
Smoothing out those ups and downs into a predictable growth curve is key to your success.
Yet unless you can afford a top flight sales manager or director, all too often, the job of growing and managing a sales force falls in your lap.
And it's frustrating to spend so much time recruiting, training, coaching and managing sales people, when you'd much rather focus on growing the company.
Well, those days are behind you. 
What I'm about to share with you today will help you create the kind of consistent growth for your company that you're going to love.
You might not be "tap-dancing into work every day", like Warren Buffett, but I guarantee your job will be a whole lot easier once you can count on your sales team to deliver the sales when you need them.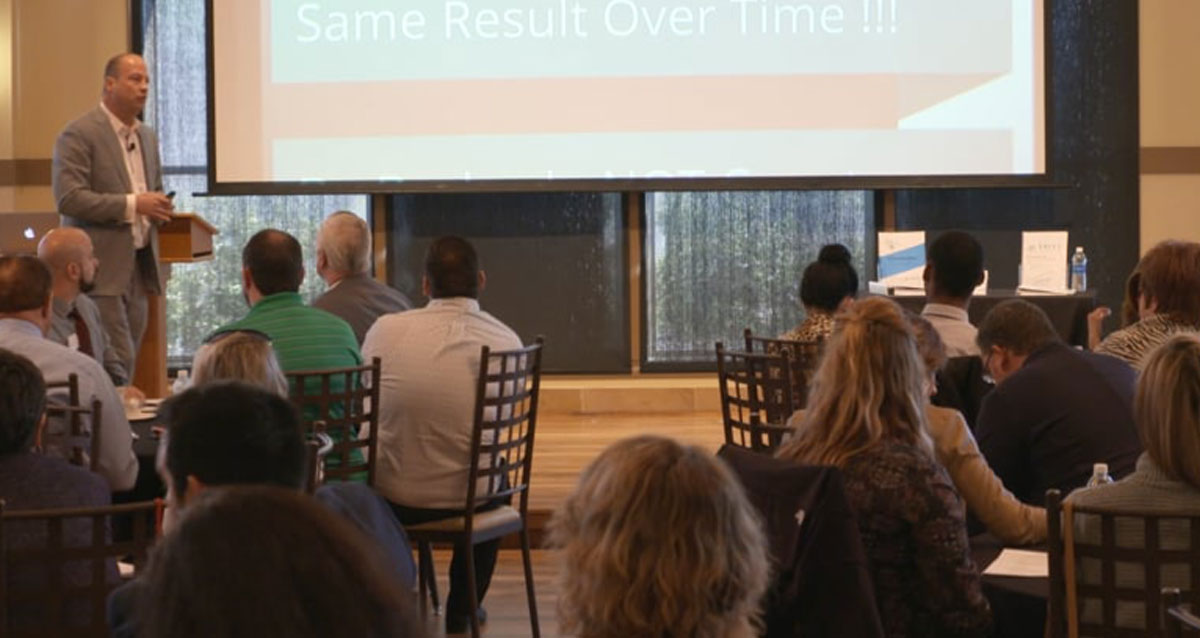 The Cornerstone of Every Great Company
To get your sales coming in like clockwork, you need a system.
What follows is a proven model we've used here at Sales Solve Everything for dozens of mid size homebuilders. Use all or as many parts of it as you need. It's your blueprint for sales success — no matter what kind of market conditions you encounter.
Recruit
Start with the community managers you have. Hire new talent if you need to. Bring in sales assistants for your "farm team". Do what you can to attract new top producers. And don't worry if you can't bring in the best of the best — you'll soon have what it takes to train the rest.
Train
Give everyone on your team the training they need. I highly recommend the Sales Solve Everything New Home Sales Training Schools and Workshops, held several times each year.
Reinforce
Reinforce training with daily "Sales Bites" — a series of practical mini-lessons designed to help overcome the day-to-day challenges of selling new homes. Giving your team access to these daily lessons reinforces good habits and prepares them for whatever obstacles may come up in winning new sales.
Set Goals
It's important to help your team break through any mental or physical ceilings holding them back. Give them challenging goals beyond their comfort zone. By encouraging them to stretch, you help them set new goals beyond what they previously thought possible.
Analyze Your Competitors
Study your market. Find out what your competitors are up to. What's working, and what isn't? Determine what you think your share of that market should be. Then break it down into goals for your sales force as a whole. Show your team what's possible based on what your competitors are doing and reward them when your goals for market share are attained.
Huddle
Weekly huddles give your sales team members a chance to go over their metrics to gauge efforts and expected results. Have them review their top prospects each week, and discuss strategies on how to move the sales forward, or generate the appointments needed to create a sale.
Incentivize
Napoleon Bonaparte famously said, "It's amazing how hard a soldier will fight and even die for a piece of colored ribbon." And this little guy conquered all of Europe. The point is, be generous in rewarding performance. Celebrate early and often with special events, dinners, awards, tokens, trophies — the only limit is your imagination. And if you really want to "motivate the troops", be sure to ask them what they would like as rewards.
Review
As the old saying goes, "You don't get what you expect, you get what you inspect." We'll often mystery shop our trainees and then review the shopping experience with them. The feedback and coaching they get on the results is huge for helping them improve.
Build Your Team
Special events can foster motivation and team performance. Survey your team to find out what kind of special team-building events they'd like, and then give it to them. Again, the sky's the limit, literally — skydiving, team dinners, golfing, lunches at fun luxury venues, individual cash incentives and happy hours are just a few of the many ideas you can try.
The Holy Grail: Predictable and Consistent Sales
So, there you have it — your own blueprint for new home sales success. If you put these nine strategies to work consistently, I guarantee your sales will be as predictable and consistent as clockwork.
If you don't have the time or inclination to do it all on your own, consider outsourcing. At Sales Solve Everything, we've helped dozens of our clients achieve amazing 3-digit growth, year after year by implementing these strategies for them. Call us at 888-738-4020 or email info@ssemanages.com for details.