Single-family building is picking up. But can it help solve the housing shortage?
New home construction could add life to the housing market later this year, after the number of single-family homes being built rose last month and the number of multi-family units under construction hit historic highs.
Those lifts came despite an overall monthly decline in builder activity. 
Both single-family construction and new permits increased in March, potentially offering buyers more relief during the spring buying season as mortgage rates trend downward. 
But there was a pullback in multi-family construction from a month earlier, and some economists expect further declines in the months ahead. 
Commerce Department data released on Tuesday showed an overall 0.8 percent decrease in housing starts in March, led by a decline in construction of new multifamily units — buildings with five or more units — which fell by 6.7 percent.  
Single-family starts increased by 2.7 percent from a month earlier to an annual rate of 861,000 units.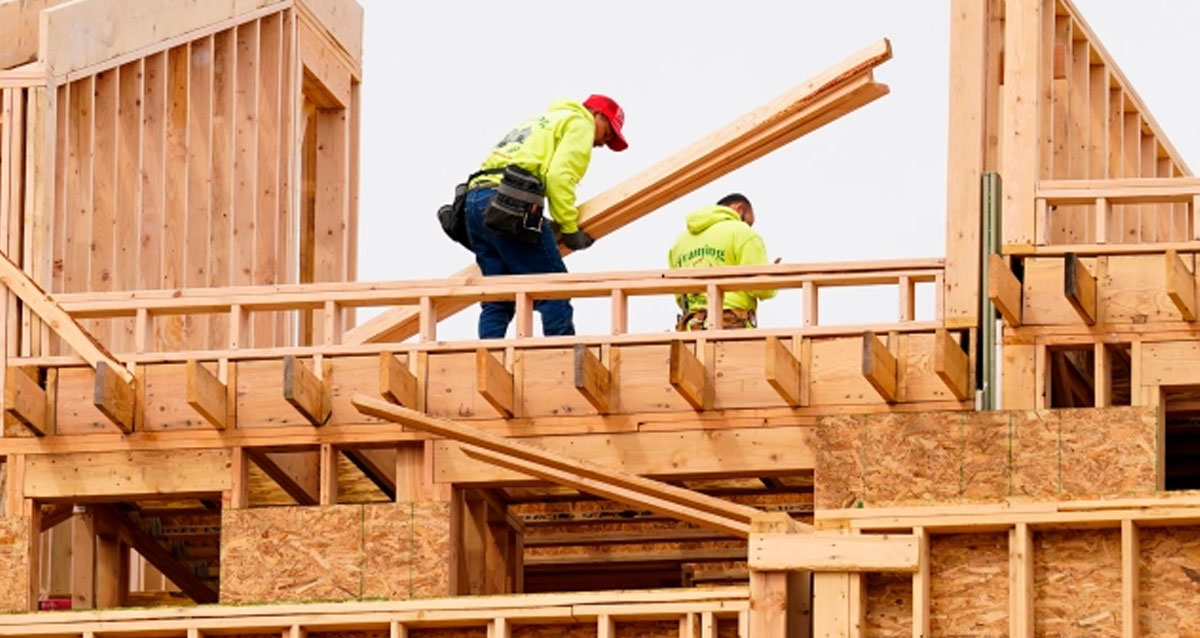 FILE – Construction workers build new homes in Philadelphia, Tuesday, April 5, 2022. Low mortgage rates have helped juice the housing market over the past decade, easing the way for borrowers to finance ever-higher home prices. A run-up in rates in recent weeks is threatening to undo that dynamic, setting the stage for a slowdown in home sales this year as the increased borrowing costs reduce would-be buyers' purchasing power. (AP Photo/Matt Rourke, File)
The revised rate in February stood at 838,000. Permits for single-family homes were up by 4.1 percent month-on-month in March to an 818,000 unit rate, although they were down by nearly 30 percent from the same time last year.
"New residential construction is reflecting a housing market coming to terms with the new reality of higher interest rates, shifting construction costs, and continued monetary tightening," George Ratiu, chief economist of Keeping Current Matters, a real estate consultant company, said in a statement, noting the pivot toward single-family construction.
Maleyev said that while builder confidence is "cause for optimism," there are still challenges ahead.
"Builders are still facing the same challenges as before the downshift in housing began. Lack of workers, available land, high costs of regulations and materials, as well as potentially tighter financial conditions," she added.
Market conditions still look wobbly for housing market
Economists still anticipate a volatile road ahead in the coming months for multifamily and single-family sectors.
"We expect choppiness for single-family construction in the months ahead, with the 2023 data posting significant year-over-year weakness before improving on a sustained basis," said Robert Dietz, chief economist for the National Association of Home Builders (NAHB).
"The multifamily market softened in March, and we anticipate ongoing declines for apartment construction in the months ahead due to tighter lending conditions in the commercial real estate sector," Dietz added.
Permits for multifamily construction dipped 24.3 percent month-over-month in March and were down 17.3 percent from last year.
The Federal Reserve's aggressive effort to tamp down growing inflation by raising its baseline interest rates significantly weakened buyer demand late last year and into early 2023.
These interest rate hikes sent mortgage rates soaring and compounded a tough situation for buyers already facing high home prices.
Mortgage rates are settling even as the U.S. central bank considers another interest rate increase. The 30-year fixed-rate mortgage fell for the fourth straight week last week to 6.27 percent.
But a decade of underbuilding following the financial crisis continues to drive prices and demand, Hannah Jones, an economic research analyst with Realtor.com, wrote on Tuesday.
"Today's construction data suggests that though we may have already seen the floor in housing construction, the path up will be affected by the Fed's success in achieving a 'soft-landing' and preventing the economy from tumbling into a recession," she said.