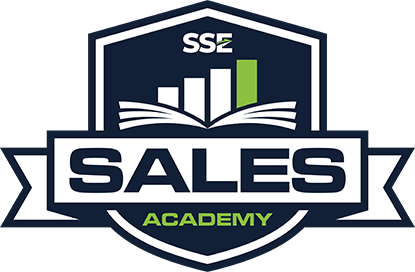 Master the skills & mindset you need to easily connect with buyers, overcome objections, negotiate better, and close more deals.
September 19-21, 2023
9:00 am – 5:00 pm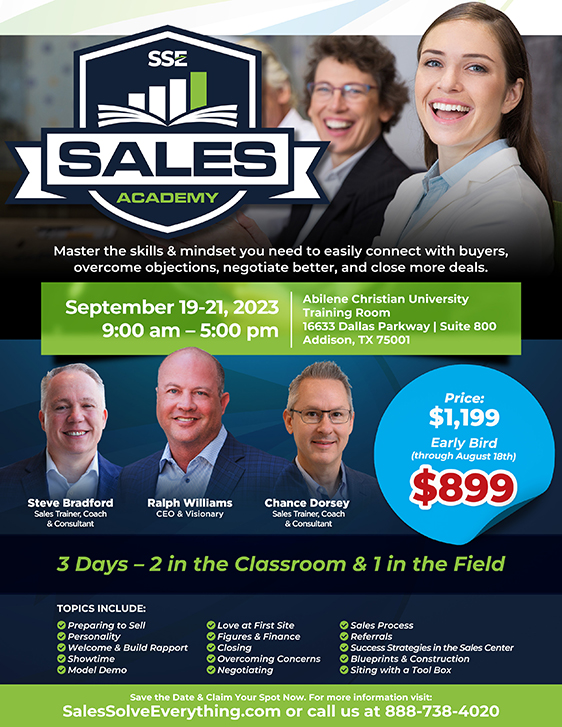 Discover for yourself what our Sales Academy has to offer you:
Learn proven strategies and insights from amazing trainers and New Home Sales leaders
Master the fundamental skills you need to connect with buyers, ease their minds, and drive results
Gain confidence and secure a promising future in the New Home Sales Market
What You Can Expect From Our Sales academy:

Receive Guidance From Nationally Renowned New Home Sales Trainers Who Have Been In Your Shoes
Gain expert training from amazing trainers who been on the front lines of New Home Sales, faced countless challenges, and found lasting success.
Master the Fundamental Skills You Need to Connect with Buyers, Ease Their Minds, and Drive Results
It's all about the customer – learn how to connect with your customers faster and more easily by learning about the personality nuances that drive them to take action.


Predictable New Home Sales Success You Can Depend Upon Year After Year
Stop worrying about your future and move forward in New Home Sales with confidence with the streamlined processes you need for predictable results.
Abilene Christian University Training Room
16633 Dallas Parkway, Suite 800
Addison, TX 75001
Stay wherever you like, but for the easiest and best
proximity to the event venue, these are our top picks:
2 Days in the Classroom & 1 Day in the Field
IN THE CLASSROOM (Day 1 & 2):
Over the course of the 2 Classroom Days, students will have a chance to PREPARE mentally to get into the game, GROW confidently learning the numbers to help ease buyers minds, CONNECT faster and easier by learning about personalities, and ABSORB the fundamental skills to overcome objections, negotiate & close deals. ​
Rise, Shine, & Sell
Preparing to Sell
Personality
Welcome & Build Rapport
Showtime
Model Demo
Love at 1st Site
Figures & Finance
Closing
Overcoming Concerns
Negotiating
Sales Process
Referrals
IN THE FIELD (Day 3):
On the 3rd Day, we'll venture out into the field, to a model home, where we'll review blueprints and build value on a home site, walk construction & demonstrate the model! ​
Success Strategies in the Sales Center
Reading Blueprints
Walking Construction
Romancing a Model
Selling on the Dirt
By enrolling for our 3-Day
Sales Academy,
you'll get the following benefits:

​Learn How to Connect with Customers Faster & Easier
Drive results by learning about the personality nuances that drive sales and the strategies that help ease buyers' minds.

Make More Money with Proven Strategies to Increase Sales
Learn the fundamental skills you need to negotiate better and close sales from New Home Sales Trainers who understand your challenges.

Predictable Results with Streamlined Processes
Secure a promising future with refreshed goals, new confidence, and the insights you need to find consistent success in New Home Sales.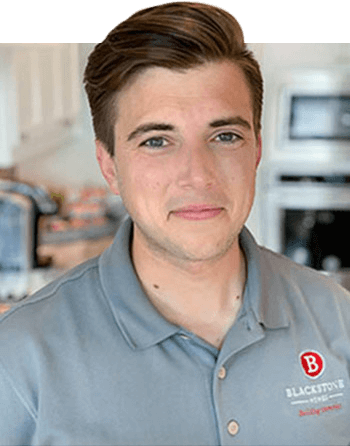 Simply the best. I have been in sales-related professions for several years now, and this is easily the most comprehensive and inspiring training course I have ever taken. To walk away knowing I have the tools for guaranteed success is no small accomplishment on behalf of the trainers.
SSE trainers are the best in the industry teaching the best material in the industry. Don't second guess this training. It is essential to your success.
– Jeremiah McKee – Blackstone Homes
Here are answers to some frequently asked questions:
Yes, our Sales Academy is perfect for you! You'll master the fundamental skills you need to connect with buyers, negotiate better, and close deals right from the get-go.
Yes, this workshop is perfect for you! You'll master the fundamental skills you need to become a master of New Home Sales before you even start your new career. This way, you don't have to undergo years of trial and error like many sales professionals.
We've specially designed this 3-day workshop to cover the most relevant issues facing New Home Sales Professionals today. Attendees will learn, discuss, and take away insights and strategies both in the classroom and in the field - this will help them grasp and master New Home Sales skills that will drive predictable results anywhere and everywhere.
This Sales Academy has valuable insights for any level of Sales Pro - You can sharpen your skills, gain new strategies, and refresh your focus to take your "doing pretty well" to "doing phenomenal."